---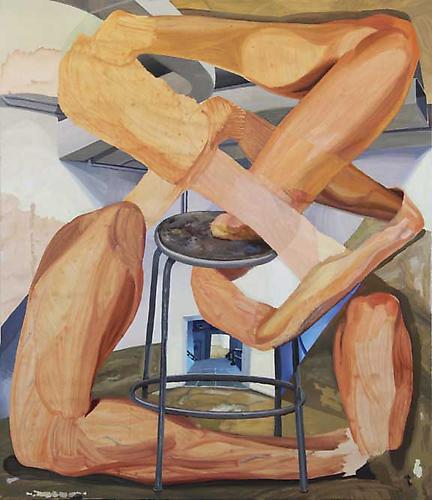 ---
COLIN MUIR DORWARD


The work of Colin Muir Dorward originates from a renegotiation of the well rehearsed "paint from life" methodology. His immediate visible surroundings provide the colors and forms that make up his paintings, but not necessarily in the most predictable ways. Radical perceptions of his surroundings allow the artist to depict a lived reality that exists beyond ocular experience. He makes the invisible visible by looking at the here and now.

Dorward's paintings are suffused with the people, spaces, and things that surround him and are marked by the flow of his life. Quotidian joys and pains, private meditations, and political agendas all find their way into the artist's work.

In the wake of post-modernist critique, this premise might seem a dangerous attempt to re-establish a "cult of the author," or a misguided effort to establish power as a bearer of unique vision. On the contrary, Dorward works from the destabilized position of the artist offered by late century critical judgment. He is invested in vision as a productive assimilation of multiple perspectives, as a theory laden cultural product, and as a fallible connection to the world at large.

In Frank Herbert's fantasy world Dune, a technologically advanced society engineers a functional model of Vincent Van Gogh through careful analysis of his brush strokes, revealing to them his complex inner workings. Herbert understood the "transparency" of paint: its potential to make revelations about the artist. For Dorward, experience has confirmed this (so called) problematic cliché, and led him to employ it as a means of generating content. He validates this "egocentric" position by way of two assumptions. First, that paintings are no longer burdened by an obligation to assume or embody supposed heroism. Second, that intimate details of an artist's life are as pertinent to their practice as the corresponding details of a viewer's life are to their practice of reading the artist's work. On this level playing field, the artist's self inspection, in this case his own, functions as a relational ice breaker, allowing viewers to navigate the work in terms of their own experiences.

Dorward received an MFA in 2013 from the University of Ottawa, and a BFA in Visual Arts from Emily Carr University of Art and Design in Vancouver in 2007. He received an Honourable Mention in the 2013 RBC Canadian Painting Competition, and was also a Finalist in the 2012 RBC Canadian Painting Competition. His work has been exhibited across Canada and is held in numerous private and public art collections, including the RBC corporate art collection and the City of Ottawa art collection.


© Copyright 2014 PATRICK MIKHAIL GALLERY. ALL RIGHTS RESERVED. The contents of this Website may not be used or duplicated without the authorization of PATRICK MIKHAIL GALLERY and/or its represented artists.