---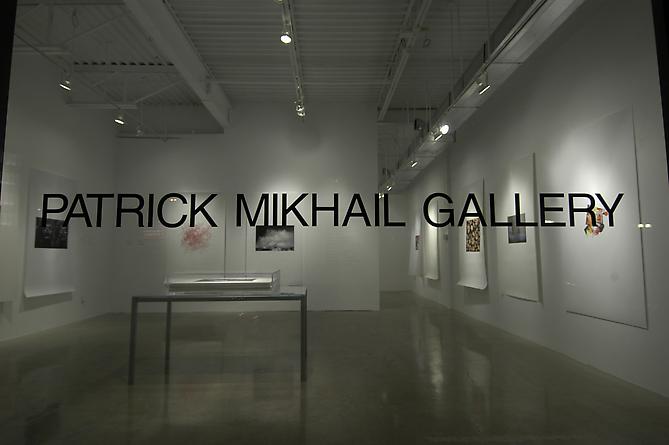 ---
Press Release
MICROCOSM
GROUP EXHIBITION
September 23 - October 20, 2009
PATRICK MIKHAIL GALLERY presents MICROCOSM A group exhibition and portfolio launch featuring 16 artists—from September 23 to October 20, 2009
MICROCOSM EXHIBITION AND PORTFOLIO LAUNCH.
STEPHEN BROOKBANK
OLGA CHAGAOUTDINOVA
ADRIAN FISH A
DRIAN GÖLLNER
VERA GREENWOOD
DAVE HEATH
ADAM KRAWESKY
DEBORAH MARGO
SUSAN MCEACHERN
WIL MURRAY
CHERYL PAGUREK
FRANK RODICK
MICHAEL SCHREIER
CINDY STELMACKOWICH
ANDREW WRIGHT
JINNY YU
SEPTEMBER 23 TO OCTOBER 20, 2009
ARTIST RECEPTION:
FRIDAY, SEPTEMBER 25, 2009
5:30 P.M. TO 9 P.M.
ARTIST TALK:
SUNDAY, OCTOBER 4, 2009
2 P.M.
ANDREW WRIGHT APPEARS COURTESY OF PEAK GALLERY, TORONTO. WWW.PEAKGALLERY.COM
We are pleased to launch our fall exhibition season, and celebrate the gallery's fifth anniversary, with MICROCOSM, a group exhibition featuring works on paper by 16 artists investigating issues of spirituality, creationism, and technology.
Classically, the idea of the microcosm discussed the symbiotic relationship present in all aspects of creation, from the smallest to largest organisms present in the cosmos. As the earth was considered a functioning microcosm of the universe, human beings were considered a living microcosm of their creator. Or are they?
As we enter a new age of reason where science and technology gain greater importance and control over our lives, the inquiry into traditional spirituality continues to gain strength as we question our place in the universe and how it relates to our traditional belief systems. Faced with this dichotomy, how do we deal with the idea that human beings are a perfect reflection of their creator? Do we still exist as a perfect microcosm of the universe? As technology and spirituality become fused together, the works in this exhibition invite viewers to further investigate these concepts.
Note: For the duration of the exhibition, the original works on paper, will be available for purchase individually in the gallery for the special price of $250 each. At the conclusion of the exhibition, they will only be available as a complete portfolio in a custom- made Lucite presentation box for $6000.
Together, these artists' works can be found in the collections of the Museum of Modern Art New York, National Gallery of Canada, Ottawa Art Gallery, City of Ottawa Collection, Canada Council Art Bank, Philadelphia Museum of Art, Museum of Fine Arts Houston, San Francisco Museum of Modern Art, Royal Bank Collection, in addition to numerous corporate and private collections.
IN OTHER GALLERY NEWS...
Michael Schreier launches a stunning new body of photo-based work at the Ottawa Art Gallery in an exhibition entitled Storyteller/Waiting for Words, from September 10 to November 15. http://www.ottawaartgallery.ca/
Cheryl Pagurek is featured as an official selection in the 11th annual Le Mois de la Photo à Montréal with a solo exhibition at La Maison de la culture Plateau - Mont-Royale curated by Gäelle Morel. From September 4 to October 4. http://www.moisdelaphoto.com/
We are pleased to be collaborating with Montreal's PUSH Gallery to launch a new body of work by artist Wil Murray entitled We Pet Your Cat to Death? on view from September 10 to October 11. Our sincere thanks and appreciation to PUSH Director Megan Bradley. http://www.galeriepush.com/
In her exhibition at Montreal's Galerie Trois Points, Olga Chagaoutdinova's new video and photo work investigates themes of tragedy, suffering, fatality, and loss from a feminist point of view. From September 10 to October 11, 2009. http://www.galerietroispoints.qc.ca/
Deborah Margo appears at Calgary's Truck Gallery in the exhibition Through Thick & Thin with painter Eric Cameron, from September 4 to October 1. http://www.truck.ca/
We return to the Toronto International Art Fair from October 22 to 26 featuring new work by Olga Chagaoutdinova, Vera Greenwood Dave Heath, Deborah Margo, Wil Murray, Michael Schreier, and Cheryl Pagurek. Please visit us in Booth 716. www.tiafair.com
Opening next at Patrick Mikhail Gallery...
Quebec artist Vera Greenwood launches a new body of work entitled SEVER in her second solo presentation with the gallery. The exhibition runs from November 4 to December 5, 2009.
We celebrate the holidays with the playful group exhibition entitled THE BEST OF THE SEASON from December 9 to 31, 2009.
For more information:
PATRICK MIKHAIL GALLERY
2401 Bank Street
Ottawa Canada K1V 8R9
Tel. 613.746.0690
TF: 1.800.388.3298
E-mail: gallery@patrickmikhailgallery.com
Web: www.patrickmikhailgallery.com