---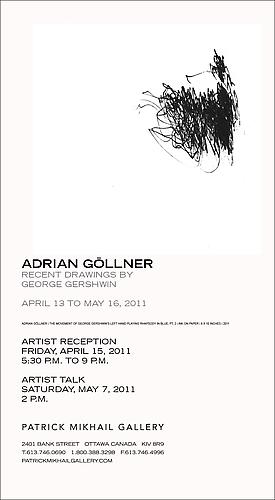 ---
Press Release
ADRIAN GÖLLNER
RECENT DRAWINGS BY GEORGE GERSHWIN
April 13 - May 16, 2011
We are pleased to announce a solo exhibition of new works by contemporary conceptual artist ADRIAN GÖLLNER.
RECENT DRAWINGS BY GEORGE GERSHWIN
APRIL 13, 2011, TO MAY 16, 2011
ARTIST RECEPTION:
FRIDAY, APRIL 15, 2011
5:30 P.M. TO 9 P.M.
ARTIST TALK:
SATURDAY, MAY 7, 2011
2 P.M.
In RECENT DRAWINGS BY GEORGE GERSHWIN, ADRIAN GÖLLNER presents two new series of drawings that plumb old technology for the human essences remaining within.
The CLOCK DRAWINGS utilize the energy stored on the springs of old wind-up alarm clocks to create simple drawings. What is remarkable is that the energy stored on the springs of these clocks is the direct physical energy of the last person to wind it, and that act could have occurred 80 years ago.
Developed in the early 1900s, the reproducing piano plays rolls that recorded the actual physical movement of the pianist as he or she performed. As a result, and as intangible as it may be, what we hear from a reproducing piano is not a sound recording, but a replaying of the original performance with all of the expression and timing of the featured pianist. George Gershwin performed his own compositions for Duo-Art reproducing pianos and it is through this technology that Mr. Gershwin has "recently" made these drawings.
Adrian Göllner's practice is increasingly conceptual. Known for his site-specific installations and chameleon-like adaptation to the environments in which he exhibits, Göllner combines graphing techniques and references to Modernism in artworks that critique our consumer culture and play with the conventions of abstraction.
Over the past years, Göllner has received 19 public art commissions. Notable amongst these are the street lighting designs for the Vancouver 2010 Winter Olympic Games and an integrated sculpture for the new Canadian Embassy in Berlin, which was completed in 2005. Most recently, he received two major commissions from the Department of Foreign Affairs Canada to create artwork for the new Canadian Embassy in Moscow.
Mr. Göllner's work has been shown in solo and group exhibitions throughout Canada, the United States, Europe, and New Zealand. He is the recipient of numerous grants from the Canada Council for the Arts, Ontario Arts Council, and the City of Ottawa. His work can be found in a number of collections, including the Anglo-Irish Bank, the Department of Foreign Affairs, the Canadian War Museum, Ottawa Art Gallery, City of Ottawa art collection, Carleton University Art Gallery, National Gallery of Canada Library, Art Gallery of Ontario Library, and Agnes Etherington Art Centre. Reviews and critical discourses of his work have appeared in Canadian Art, Border Crossings, C Magazine, Parachute, Saturday Night, and the Sunday Times. In 2007, he was awarded the prestigious Canada Council for the Arts Residency in Port of Spain, Trinidad. Mr. Göllner received a B.F.A. from Queen's University in 1987 and is a member of the Royal Canadian Academy.
IN OTHER GALLERY NEWS…
ANDREW WRIGHT'S PMG exhibition CORONAE travels to Toronto's Peak Gallery where it will be on view as part of the Contact Toronto Photography Festival; April 28 to May 28, 2011. www.peakgallery.com
As part of Ottawa's giant Prairie Scene Festival, CINDY STELMACKOWICH appears in the exhibition A Prairie Snapshot, featuring works from the Canada Council Art Bank including Marcel Dzama, Joe Fafard, and Diana Thorneycroft. National Arts Centre Foyer, April 26 to May 8, 2011. www.prairiescene.ca/en/
Also as part of Prairie Scene, CINDY STELMACKOWICH presents the findings of her artist-in-residence project in a public talk in The Art Of Mourning In Ottawa: Revisioning Victorian Bereavement Artefacts at the Bytown Museum; April 30, 2011, 2 p.m. www.bytownmuseum.com
OLGA CHAGAOUTDINOVA appears in the launch exhibition for Toronto's Contact Photography Festival at MOCCA from April 29 to June 5, 2011. Entitled Figure & Ground: Dynamic Landscape and curated by Bonnie Rubenstein, it features Scarlett Hooft Graafland, Viviane Sassen, and Dayanita Singh. www.mocca.ca
OPENING NEXT AT PATRICK MIKHAIL GALLERY…
ESSENTIAL PROJECTS SERIES: 002, JESSICA AUER, UNMARKED SITES, Book Launch, Thursday, May 19, 2011.
STATE OF THE ART | May 25 To June 30, 2011 | Featuring Linda Chalmers, Dave and Jenn, Kristopher Karklin, Jennifer Lefort, Andrew Morrow, James Olley, and Amy Schissel.
LOOK FOR PATRICK MIKHAIL GALLERY AND ADRIAN GÖLLNER
IN THE APRIL 2011 ISSUE OF ARTFORUM MAGAZINE.
For more information:
PATRICK MIKHAIL GALLERY
2401 Bank Street
Ottawa Canada K1V 8R9
Tel. 613.746.0690 TF: 1.800.388.3298
E-mail: gallery@patrickmikhailgallery.com
Web: www.patrickmikhailgallery.com