ESSENTIAL PROJECTS SERIES: 002 | JESSICA AUER
UNMARKED SITES | BOOK LAUNCH
May 19, 2011
Back to Exhibitions
---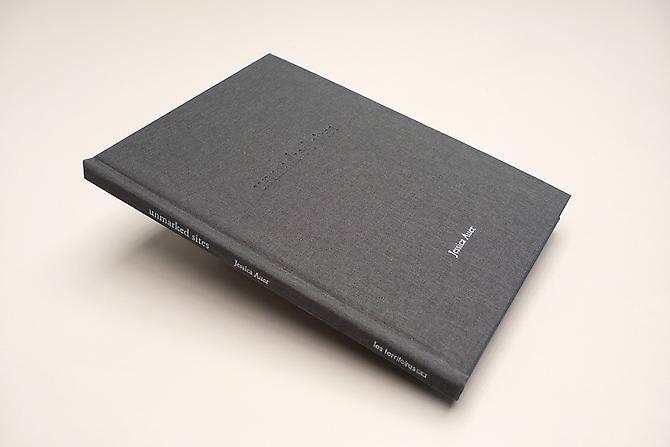 ---
Press Release
ESSENTIAL PROJECTS SERIES: 002 | JESSICA AUER
UNMARKED SITES | BOOK LAUNCH
May 19, 2011
PATRICK MIKHAIL GALLERY
ESSENTIAL PROJECTS SERIES: 002
JESSICA AUER
UNMARKED SITES
BOOK LAUNCH
THURSDAY, MAY 19, 2011
5:30 TO 9 P.M.
As part of our continuing ESSENTIAL PROJECTS SERIES, PATRICK MIKHAIL GALLERY is pleased to present the launch of a magnificent, limited-edition book by Montreal photo-artist JESSICA AUER. Please join us on May 19, 2011, for this one-night only event featuring the book launch, signing, and an exhibition of new works by the artist. Jessica Auer will be present.
For her photographic series UNMARKED SITES, Jessica Auer pursues photography like an archeologist, exploring cultural sites in Newfoundland and Labrador in an effort to reconcile its complex history. Looking to the land for signs of the past, Auer delves into the relationship between landscape and regional identity. The resulting narrative reveals the intricacies that relate exploration, settlement, cultural preservation, and modern tourism. Inspired by the travelogue and set within the context of geological time, the artist takes the reader on a journey that travels between reality and the imaginary.
UNMARKED SITES
ARTIST BOOK
6 X 8 INCHES
CLOTH HARDCOVER, 60 PAGES
18 DIGITAL OFFSET COLOUR PHOTOGRAPHS
EDITION OF 500
ISBN 978-2-9812392-0-4
$30
To order, please visit the gallery Website or contact the gallery directly.
BIOGRAPHY
Jessica Auer is a Montreal artist who teaches photography at Concordia University. Inspired by her intimate relationship with the outdoors, Auer's landscape photography is concerned with the development of cultural and natural sites of recreation. Unmarked Sites is her first book. Auer obtained an MFA from Concordia University. Solo exhibitions include Re-creational Spaces at Galerie Thérèse Dion (Montréal, 2007) and Toronto Image Works (Toronto, 2008). She is the recipient of numerous grants and awards. Her work is held in various private and public collections such as the Canada Council Art Bank, Fidelity Investments, CollectArt, Standard Life, and the Bibliothèque Nationale du Québec.
The artist would like to thank Tetsuomi Anzai, Alexi Hobbs and the team at Montreal's Les Territoires for their collaboration. This project would not have been possible without the support of The Conseil des arts et des lettres du Québec, the Faculty of Fine Arts at Concordia University, and Patrick Mikhail Gallery.
For more information:
Visit the artist's web galleries at: http://www.patrickmikhailgallery.com/artists/jessica-auer/
Visit the artist's website at: http://www.jessicaauer.com/
IN OTHER GALLERY NEWS…
PMG artist ANDREW MORROW has been selected the winner of the prestigious RBC Emerging Artist Award. The RBC award and $5000 prize is presented each year by the Council for the Arts in Ottawa to recognize and encourage the achievements of Ottawa artists who are founding careers in the arts and are working towards becoming recognized professional artists while engaging with the community. The winner was announced on April 28, 2011, at the CAO Arts Award Lunch at the Canadian Museum of Nature. Mr. Morrow's professional practice has had an emphasis on the painted medium with his apocalyptic works negotiating the fragmentation of contemporary experience, masculinity, and sexuality. Recently, he expanded his practice into painting-driven, in-situ installation where painting and the conditions of its presentation become inseparable. In 2011, he will be seen in a number of presentations including: new video-based work at Ottawa's SAW Gallery in April; the group exhibition STATE OF THE ART from May 25 to July 20, 2011; and a solo exhibition of new works from November 10 to December 13, both at PATRICK MIKHAIL GALLERY. Mr. Morrow holds a Masters of Fine Arts from the University of Ottawa, a Bachelor of Fine Arts from Queen's University, as well as degrees from the Ontario College of Art and Design and the Toronto School of Art.
Congratulations to Calgary artists DAVE FOY and JENNIFER SALEIK. The duo, also known as DAVE AND JENN, have been nominated for the 2011 SOBEY ART AWARD. Dave and Jenn are represented by Emily Barnett and Bart Habermiller at Calgary's SKEW GALLERY and will be appearing in the group exhibition STATE OF THE ART at Patrick Mikhail Gallery from May 25 to July 20, 2011.
The gallery is seeking an exceptional individual to fill a Gallery Assistant position. The position is a non-remunerative, developmental internship/residency. After a successful training period, the candidate will be eligible for employment with the gallery. The position is open to graduates of an arts-related program from a degree-granting university or college who plan on pursuing their education in a post-graduate environment. Please contact the gallery for a Statement of Qualifications. Deadline for applications: June 1, 2011.
Opening next at Patrick Mikhail Gallery…STATE OF THE ART from May 25 to July 20, 2011, featuring LINDA CHALMERS, DAVE AND JENN, KRISTOPHER KARKLIN, JENNIFER LEFORT, ANDREW MORROW, JAMES OLLEY, and AMY SCHISSEL.
For more information:
PATRICK MIKHAIL GALLERY
2401 Bank Street
Ottawa Canada K1V 8R9
Tel. 613.746.0690 TF: 1.800.388.3298
E-mail: gallery@patrickmikhailgallery.com
Web: www.patrickmikhailgallery.com