---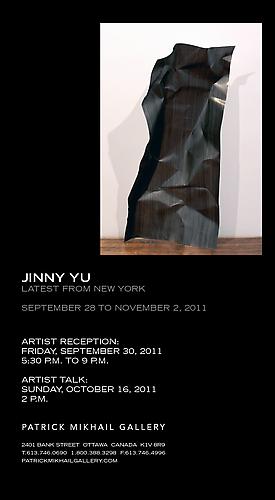 ---
Press Release
JINNY YU
LATEST FROM NEW YORK
September 28 - November 2, 2011
PATRICK MIKHAIL GALLERY PRESENTS "LATEST FROM NEW YORK," AN EXHIBITION OF NEW PAINTINGS BY JINNY YU
JINNY YU
LATEST FROM NEW YORK
SEPTEMBER 28 TO NOVEMBER 2, 2011
ARTIST RECEPTION
FRIDAY, SEPTEMBER 30, 2011
5:30 P.M. TO 9 P.M.
ARTIST TALK
SUNDAY, OCTOBER 16, 2011
2 P.M.
PATRICK MIKHAIL GALLERY is pleased to present LATEST FROM NEW YORK, an exhibition of new paintings by Ottawa artist JINNY YU. The exhibition presents conceptual paintings Ms. Yu produced during her 2011 artist residency at the International Studio & Curatorial Program (ISCP) in New York, sponsored by the Canada Council for the Arts.
In the exhibition LATEST FROM NEW YORK, Jinny Yu will present her newest body of work. In her work, she attempts to simultaneously scrutinize conventions of painting and to explore new possibilities within the medium. Oscillating between the fields of the abstract painting and the object, her work seeks out aspects of painting beyond the pictorial space: she strives to depict that which is beyond the image and deliberately reveals the gestural aspect of painting as praxis. Yu paints with oil on aluminum, whose semi-reflective surface comprises a pictorial space. This choice of materials is integral to her artistic practice and conceptual musings; the pictorial space of the aluminum is a material fact, a pre-existing condition of the as-yet-unpainted surface, and by painting on such a surface, one that is already pictorial, Yu's work begins where painting often ends.
Also on view this month, Jinny Yu appears with Don Andrus in the collaborative artist project CADENZA at the McMaster Museum of Art in Hamilton. The exhibition runs from September 3 to November 5, 2011, and is part of the McMaster Museum's series RISING TO THE OCCASION: The Long 18th Century. For more detailed information, please visit: http://www.mcmaster.ca/museum
In March 2011, Yu was selected one of three finalists for the prestigious Pulse Prize at Pulse Contemporary Art Fair New York. She is currently at work on an installation commission to produce the interior of Chapel Sant'Isidoro, in Nate, Trichiana, Belluno, Italy.
Jinny Yu is a painter and Associate Professor in the Department of Visual Arts at the University of Ottawa. A native of Seoul, South Korea, Yu moved to Montreal in 1988. Her works have been shown in numerous exhibitions in Canada, United States, Japan, Italy, and the United Kingdom, including exhibitions at the Bevilacqua La Masa Foundation (Venice), the Kyoto Municipal Museum of Art (Kyoto), the Conduit Street Gallery, Sotheby's (London, UK), Carleton University Art Gallery (Ottawa), the Taehwa Eco Art Festival (Ulsan City, Republic of Korea), the Confederation Centre Art Gallery (Charlottetown), and McMaster Museum of Art (Hamilton). She is the recipient of numerous grants and awards from the Conseil des Arts et des Lettres du Québec, the du Maurier Arts Council (2001), and Concordia University. In June 2011, her work was added to the collection of the Canada Council Art Bank. Her works can also be found in numerous museum, corporate, and private collections including the Musée National des Beaux-Arts du Québec, Ernst & Young, ICI Canada Inc., and the Mills Foundation.
Jinny Yu has an M.F.A. from York University, an M.B.A. from York University, and a B.F.A. from Concordia University.
IN OTHER GALLERY NEWS…
We are pleased to announce PMG's AMY SCHISSEL has been selected a semi-finalist in the 2011 RBC Canadian Painting Competition. Her painting "Prolix V" was the artist's official entry in the competition. The RBC winners will be announced at the exhibition launch at the Art Gallery of Alberta in Edmonton on September 27, 2011. The exhibition later travels to the Art Gallery of Hamilton and Toronto's The Power Plant. For more details please visit www.rbc.com/sponsorship/paintingcompetition/
ANDREW WRIGHT appears in the Fall 2011 issue of BORDER CROSSINGS magazine. The article, "The Pleasures of Indeterminacy: Andrew Wright" in the BORDERVIEWS section details CORONAE, the artist's latest body of work on view at PMG last March/April and for which he later won the inaugural BMW Exhibition Prize at Toronto's Contact Photography festival. To view an online version of the article visit www.bordercrossingsmag.com/issue119/article/2897
LINDA CHALMERS will be participating in this year's ART WITH HEART at Toronto's The Carlu on Tuesday, October 18. The auction of Canadian contemporary art features works by 86 of Canada's finest artist and benefits Toronto's Casey House. Founded in 1988, Casey House was Canada's first freestanding HIV/AIDS facility and provides compassionate health care to people living with and affected by HIV/AIDS. For more information and to bid on artwork please visit http://www.artwithheart.ca/
CINDY STELMACKOWICH appears in DEARLY DEPARTED an exhibition of new works at Ottawa's Bytown Museum from October 19, 2011, to January 8, 2012. Curated by Judith Parker, Cindy Stelmackowich: Dearly Departed examines the highly charged visual and written language of mourning in the 19th century, and draws inspiration from historic objects in the Bytown Museum and the artist's own artefact collection. For exhibition details: http://www.bytownmuseum.com/
JESSICA AUER's photo-work entitled "Death Valley" has been purchased for the permanent collection of the Musée national des beaux-arts du Québec. The image is from the artist's ongoing series entitled "Re-Creational Spaces."
AMY SCHISSEL's painting "MAINTAIN THETA" has been purchased by the Canada Council Art Bank for it's permanent collection. Schissel is among a list of new works purchased from a range of established and emerging contemporary Canadian artists as part of the Art Bank's latest purchase program.
ANDREW MORROW's work "LION VS. GORILLA VS. POLAR BEAR" has been purchased by the Canada Council Art Bank for it's permanent collection.
ANDREW WRIGHT'S photo-work "American Camp" has been purchased by the City of Ottawa for it's permanent collection as part of the recent City of Ottawa 2011 Direct Purchase Program.
ADRIAN GÖLLNER'S conceptual drawing "Swanee" has been purchased by the City of Ottawa for it's permanent collection as part of the recent
City of Ottawa 2011 Direct Purchase Program. The work is from Göllner's April 2011 exhibition RECENT DRAWINGS BY GEORGE GERSHWIN.
In November 2011 we launch PATRICK MIKHAIL EDITIONS an exclusive project featuring new limited-edition works by Jessica Auer, Stephen Brookbank, Olga Chagaoutdinova, Linda Chalmers, Josée Dubeau, Scott Everingham, Adrian Göllner, Thomas Kneubühler, Jennifer Lefort, Deborah Margo, Andrew Morrow, James Olley, Cheryl Pagurek, Josée Pednault, Andreas Rutkauskas, Amy Schissel, Cindy Stelmackowich, Andrew Wright, Jinny Yu, and Ewa Monika Zebrowski. Watch our Website for details.
For more information:
PATRICK MIKHAIL GALLERY
2401 Bank Street
Ottawa Canada K1V 8R9
Tel. 613.746.0690 TF: 1.800.388.3298
E-mail: gallery@patrickmikhailgallery.com
Web: www.patrickmikhailgallery.com