ANDREW MORROW
THIS IS GOING TO HAPPEN AND THERE'S NOTHING WE CAN DO TO STOP IT
November 16 - December 30, 2011
Back to Exhibitions
---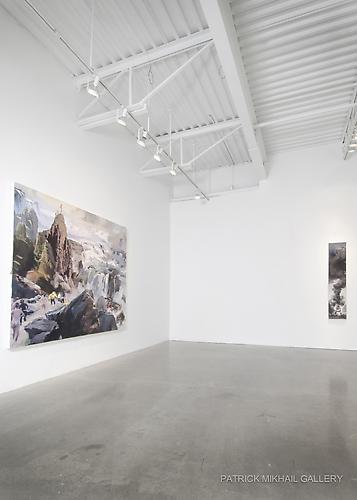 ---
Press Release
ANDREW MORROW
THIS IS GOING TO HAPPEN AND THERE'S NOTHING WE CAN DO TO STOP IT
November 16 - December 30, 2011
ANDREW MORROW
THIS IS GOING TO HAPPEN AND
THERE'S NOTHING WE CAN DO TO STOP IT
NOVEMBER 16 TO DECEMBER 30, 2011
ARTIST RECEPTION
FRIDAY, NOVEMBER 18, 2011
5:30 P.M. TO 9 P.M.
ARTIST TALK
SUNDAY, DECEMBER 4, 2011
2 P.M.
PATRICK MIKHAIL GALLERY is pleased to present THIS IS GOING TO HAPPEN AND THERE'S NOTHING WE CAN DO TO STOP IT, an exhibition of new paintings by Quebec painter and video artist ANDREW MORROW. In this first solo exhibition with the gallery, Mr. Morrow presents a new body of work that literalizes the fragmentation that can arise from an established artistic practice.
The exhibition unfolds in two parts at Patrick Mikhail Gallery. The front gallery, features a series of paintings arising from a recent tour of history painting in London, Paris, Berlin, and Amsterdam. In a re-framing of the modernist tenets of universality and timelessness, these new works reflect a desire for meaning and narrative; they are founded on the conceit that things actually matter.
In the second exhibition space, Morrow presents a fragmented body of work that explores the possibility of experimentation and impulse as a complement to an established and incremental painting practice. In a series of events and presentations throughout the course of the exhibition, Morrow experiments with multiple materials and approaches and presents work ranging from video paintings, painted collages, 3-D printouts, and high-concept coloring books.
Morrow holds a Degree from the Ontario College of Art and Design, a Bachelor of Fine Arts degree from Queen's University, and a Master of Fine Arts degree from the University of Ottawa, where he was awarded the Michel Goulet Prize for outstanding MFA Thesis Presentation. Morrow has exhibited widely throughout Canada, including the Sudbury Art Gallery; the Museum of Contemporary Canadian Art, Toronto; the McMaster Museum of Art, the New Brunswick Museum, Saint John; and the Edmonton Art Gallery. His work is in many private and public collections, including the Canada Council Art Bank, Royal Norwegian collection, Kingston City Hall, City of Ottawa Art Collection, and the St. Regis Hotel, San Francisco.
Morrow's work has been reviewed in Canadian Art magazine, Canadian Art Online, the Globe and Mail, the National Post, Eye Magazine, NOW Magazine, Vie Des Arts, the Ottawa Citizen, and on CBC Television and Radio, among others. Morrow is the recipient of numerous grants and awards. He was short-listed for the RBC Canadian Painting Competition in 2004, and the Toronto Arts Council Foundation Emerging Artist Award in 2007, and was the recipient of the 2011 RBC Emerging Artist Award presented through the Council for the Arts in Ottawa..
IN OTHER GALLERY NEWS…
AMY SCHISSEL appears at Toronto's The Power Plant from November 12 to 19, 2011, in the final presentation of paintings from the semi-finalists in the 2011 RBC Canadian Painting Competition. For more details please visit www.rbc.com/sponsorship/paintingcompetition/
DEBORAH MARGO unveils a new public art commission on November 24, 2011, created for the City of Ottawa. Entitled "For Everyone a Garden" the sculptural work celebrates the conversation between the past and present architectural identities of the Ottawa South Community Centre. Suspended in front of the original fire station doors, the project's underlying concepts are those of growth and change. This transformation is highlighted by the unsealed copper surfaces of the panels, which will deepen in tone and, in areas, turn green over time. For more information: http://www.ottawa.ca/rec_culture/arts/public/commissions/current/ottawa_south_en.html
The City of Ottawa has officially launched an innovative new video public art installation by PMG artist CHERYL PAGUREK. Entitled CURRENTS, the project is the first permanent public video installation in the City's history. It employs the medium of video to embody the concepts of flow, movement, and community identity. A free-standing LED screen features video imagery of the Jock River, its currents, reflections, and seasonal changes, maintaining a link to the nearby body of water in an area of rapid urban development. For more details: http://cherylpagurek.com/currents/currents10.html
CINDY STELMACKOWICH's acclaimed exhibition Dearly Departed at Ottawa's Bytown Museum continues to break attendance records for the museum. An artist talk and launch of the exhibition catalogue take place at 2 p.m. on Saturday, November 19, 2011. Curated by Judith Parker, Cindy Stelmackowich: Dearly Departed examines the highly charged visual and written language of mourning in the 19th century, and draws inspiration from historic objects in the Bytown Museum and the artist's own artefact collection. The exhibition continues until January 8, 2012. For exhibition and artist talk details: http://www.bytownmuseum.com
We are pleased to announce representation of two new artists:
JONATHAN HOBIN is an award-winning photo-based artist whose work draws on iconic literary, cinematic, and historical references and popular culture to explore the darker and more troubling aspect of childhood, imagination, and storytelling. He was one of three artists shortlisted for the 2011 RBC Emerging Artist Award presented through the Council for the Arts in Ottawa. His work can be found in numerous collections including the City of Ottawa Fine Art collection. He is the recipient of numerous grants from the Ontario Arts Council and the City of Ottawa. Earlier this year, his photographic series In the Playroom garnered him international attention. He holds a BFA in Image Arts: Photography from Toronto's Ryerson University.
MICHELE PROVOST obtained a Diploma in Visual arts from the Ottawa School of Art and has a background in woodcarving, photography, and mixed media from the Artists' Warehouse Studios, Norwich, England. Her work is characterized by assemblages and embroidery executed in a deliberate and conceptual manner. Provost has received awards from the Conseil des arts et des lettres du Québec, the Canada Council for the Arts, and was awarded the Prix de la Relève-Fondation pour les arts et lettres en Outaouais. She has exhibited her work at the Ottawa Art Gallery, La Maison de la culture de Gatineau, le Centre des arts de Shawinigan, the Karsh-Mason Gallery, la Maison de la culture de Côte-des-Neiges, and the Galerie du Nouvel-Ontario. Her work can be found in the collections of the Canada Council Art Bank, the Ottawa Art Gallery, City of Gatineau, and City of Ottawa.
On December 2, 2011, we launch PATRICK MIKHAIL EDITIONS an exclusive project featuring new limited-edition works by Jessica Auer, Stephen Brookbank, Andrea Campbell, Olga Chagaoutdinova, Josée Dubeau, Scott Everingham, Adrian Göllner, Jonathan Hobin, Thomas Kneubühler, Jennifer Lefort, Deborah Margo, Andrew Morrow, James Olley, Cheryl Pagurek, Josée Pednault, Michèle Provost, Andreas Rutkauskas, Amy Schissel, Cindy Stelmackowich, Andrew Wright, Jinny Yu, and Ewa Monika Zebrowski. The project features photographic prints, photo-based works, digital prints and paintings, video paintings, and original drawings and sculptures, all priced under $1,000.
For more information:
PATRICK MIKHAIL GALLERY
2401 Bank Street
Ottawa Canada K1V 8R9
Tel. 613.746.0690 TF: 1.800.388.3298
E-mail: gallery@patrickmikhailgallery.com
Web: www.patrickmikhailgallery.com