---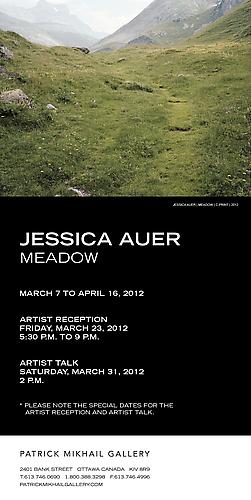 ---
Press Release
JESSICA AUER
MEADOW
March 7 - April 17, 2012
PATRICK MIKHAIL GALLERY PRESENTS "MEADOW," AN EXHIBITION OF NEW PHOTO-BASED WORKS BY MONTREAL ARTIST JESSICA AUER
JESSICA AUER
MEADOW
MARCH 7 TO APRIL 16, 2012
ARTIST RECEPTION
FRIDAY, MARCH 23, 2012
5:30 P.M. TO 9 P.M.
ARTIST TALK
SATURDAY, MARCH 31, 2012
2 P.M.
* PLEASE NOTE THE SPECIAL DATES FOR THE ARTIST RECEPTION AND ARTIST TALK.
PATRICK MIKHAIL GALLERY is pleased to present MEADOW an exhibition of new photo-based works by Montreal artist JESSICA AUER.
In MEADOW, Jessica Auer presents a photographic installation that questions our perception of nature. In this body of work, Auer looks at the simulated environment of the meadow from multiple perspectives.
Created in part on a journey throughout Europe, MEADOW begins as a personal exploration of the artist's family name and history. Auer, whose name translates as "from the meadow," embarked on a search for places that bear this description. Observing that these idyllic sites are mostly an illusion of nature; often the trees have been cut down and trails have been blazed, Auer recognizes that as human beings, we also impose our own cultural impressions upon the meadow. Figured throughout the history of painting and photography, and used as a stage in literature and cinema, the meadow cannot help but bear the nuances of a tranquil paradise. Reality and imagination interweave throughout this installation of large-scale photographs. Although the meadow is offered as the setting for Auer's own personal mythology, she invites the viewer to bring his or her own reveries to the MEADOW.
Jessica Auer is a documentary-style landscape photographer from Montreal. Drawing inspiration from history and archeology, her work is largely concerned with the study of cultural sites. From the beaten track to the frontier, Auer explores places where history and mythology are woven into the landscape, and where contemporary landscape issues emerge. Auer received her MFA in Studio Arts from Concordia University in 2007 and is the recipient of several grants and awards such as the W.B. Bruce European Fine Art Travel Fellowship and the Roloff Beny Prize. Her work has been exhibited in Canada and the United States and is held in various private and public collections, including the Musée des Beaux Arts du Québec and the Canada Council Art Bank. She is a co-founder of Galerie Les Territoires in Montreal and currently holds the position of Assistant Professor in Studio Arts at Concordia University.
IN OTHER GALLERY NEWS…
- PATRICK MIKHAIL GALLERY is pleased to present Montreal artist THOMAS KNEUBÜHLER in the exhibition UNDER THE RADAR: THE NEW VISIONARIES, as part of The Armory Show VIP Week in New York from March 6 to 11, 2012. The exhibition is organized by L'Association des galeries d'art contemporain (AGAC) / Contemporary Art Galleries Association and New York curator Janine Armin. It showcases some of Quebec's leading photo-based artists in a multi-gallery presentation featuring 9 AGAC member galleries. Guided by Invoices Gallery, 558 West 21st Street, New York. For more information, or to find out more about the special VIP opening, please visit the AGAC Website at: http://new.agac.qc.ca/
- Also as part of The Armory Show Arts Week, we are pleased to announce a special presentation of the works of PMG artist CINDY STELMACKOWICH. The exhibition takes place on New York's Upper East Side at The Pfeiffer Loft on Sunday, March 11, 2012, from 11 a.m. to 5 p.m. The presentation takes place in conjunction with Ms. Stelmackowich's 2011/2012 Helfand Fellowship at the New York Academy of Medicine. For exact address, please email the gallery at gallery@patrickmikhailgallery.com or text 613.301.1880 OR 613.276.3243
- We are pleased to announce JINNY YU has been selected the first recipient of The Laura Ciruls Painting Award, a new visual arts award presented by the Ontario Arts Foundation and the Ontario Arts Council. The award is given annually to recognize an exceptional Ontario-based painter who is past the early stages of their professional career.
- JONATHAN HOBIN launches a new body of work entitled Little Lady / Little Man at Ottawa's City Hall Art Gallery from March 16 to April 29, 2012. The photographic exhibition reflects on the death of a husband and wife through the use of lullaby, vintage photographs and life-size deathbed portraiture. Little Lady / Little Man not only acknowledges the dichotomy of life's seemingly simultaneous endurance and fragility, but also challenges the viewer to consider concepts surrounding their own mortality. For more information: http://ottawa.ca/en/rec_culture/arts/gallery_exhibit/city_hall/2012_exhibits/index.htm
- PMG artists STEPHEN BROOKBANK and JONATHAN HOBIN appear in SNAP! 2012, a photographic fundraiser for the AIDS Committee of Toronto on March 25, 2012, at Canada's National Ballet School in Toronto. SNAP! is ACT's annual photographic fundraiser featuring a live auction of art, a silent auction, and the Elevator Digital Photo Competition. In previous years, the event has drawn over 700 guests, providing patrons with an opportunity to support ACT's prorgams and services, increase their awareness of HIV/AIDS, and add to their art collections. The event provides a great opportunity for both major and emerging artists to showcase their work. SNAP! is now entering its second decade, and has raised over 1.2 million dollars since its inception in support of the important programs and services at ACT. For more information: http://snap-toronto.com/
OPENING NEXT AT PATRICK MIKHAIL GALLERY:
- We are pleased to be taking part in PAPIER 12, Montreal's Contemporary Art Fair of Works on Paper from April 12 to 15, 2012. For more information, please visit the AGAC Website at http://new.agac.qc.ca/
- PMG artist and 2011 RBC Canadian Painting Competition finalist AMY SCHISSEL launches a new body of paintings from April 18 to May 28, 2012.
For more information:
PATRICK MIKHAIL GALLERY
2401 Bank Street
Ottawa Canada K1V 8R9
Tel. 613.746.0690 TF: 1.800.388.3298
E-mail: gallery@patrickmikhailgallery.com
Web: www.patrickmikhailgallery.com