PAPIER 12
CONTEMPORARY ART FAIR OF WORKS ON PAPER | MONTREAL
April 12 - 16, 2012
Back to Exhibitions
---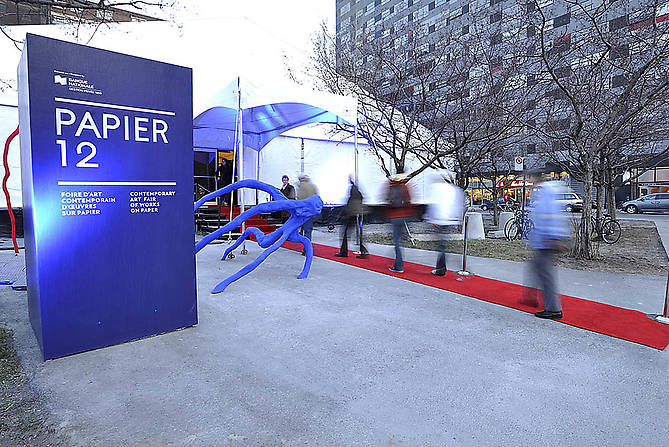 ---
Press Release
PAPIER 12
CONTEMPORARY ART FAIR OF WORKS ON PAPER | MONTREAL
April 12 - 16, 2012
PATRICK MIKHAIL GALLERY is pleased to be participating in PAPIER 12 a contemporary art fair of works on paper in Montreal from April 12 to 12, 2012.
PAPIER12 offers the chance to discover over a thousand artworks produced by hundreds of artist all in three days. For its fifth anniversary, the fair will showcase paper through different forms: print, drawing, photography, sculpture, installation, performance, etc. We invite you to discover the strength of Montreal's cultural scene by immersing yourself in the richness of contemporary art presented by galleries from all over Canada.
This year, Dr. Diane Vachon, businesswoman and well-known supporter of the contemporary arts milieu, will be the patron of PAPIER12. Like last year, the spokeswoman of the event is Catherine Pogonat, host of the show Ste-Catherine on Musique Plus, also known to the public for the conception and animation of the show Mange ta ville on ARTV, a multiple Gémeaux award-winner.
General Information
Fair schedule
Thursday, April 12
6 :00pm to 9:30pm – VIP Benefit & Opening Evening
Friday, April 13
Noon to 6:00pm – The fair is open to the public
6:00pm to 9:30pm – Public opening
Saturday, April 14
10:00am to 6:00pm – The fair is open to the public
Sunday, April 15
10:00am to 6:00pm – The fair is open to the public
Admission
From April 13 to April 15, the fair is open to the general public
(free of charge)
Location
Quartier des Spectacles – right next door to the Place des Festivals
Corner Bleury Street and De Maisonneuve Boulevard
Montreal - Quebec - Canada
Station Place-des-Arts (green line)