---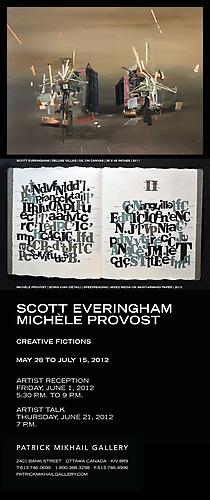 ---
Press Release
MICHELE PROVOST
CREATIVE FICTIONS | SPEEDREADING
May 30 - July 15, 2012
(LA VERSION FRANÇAISE SUIT)
PATRICK MIKHAIL GALLERY PRESENTS "CREATIVE FICTIONS" AN EXHIBITON OF NEW WORK BY SCOTT EVERINGHAM AND MICHÈLE PROVOST
SCOTT EVERINGHAM
MICHÈLE PROVOST
CREATIVE FICTIONS
MAY 28 TO JULY 15, 2012
ARTIST RECEPTION
FRIDAY, JUNE 1, 2012
5:30 P.M. TO 9 P.M
ARTIST TALK
THURSDAY, JUNE 21, 2012
7:30 P.M.
PATRICK MIKHAIL GALLERY is pleased to present CREATIVE FICTIONS, an exhibition of new work by Toronto painter SCOTT EVERINGHAM and Quebec multi-media artist MICHÈLE PROVOST. The exhibition brings together two distinct bodies of work—Everingham's "All Stones Can Be Moved," and Provost's "Speedreading"—for a unique collaboration that uses literature as a departure point for exploring the ephemerality and transience inherent in contemporary existence.
In both bodies of work, Scott Everingham and Michèle Provost engage with notions of language, narrative, and storytelling; Everingham through the medium of paint, and Provost through textiles, hand-made paper, collage, and needlepoint. Everingham's paintings reveal barely constructed edifices, floating in the air without foundation. In Provost's work, individual letters, isolated from their original texts, hover above the lines, interspersed with legible words, phrases, or poems, but nonetheless fragmented and rootless. In both cases, their work is built on omission, creating a sense of disorientation as we struggle to make sense of the gaps. In so doing, the artists draw attention to the spaces in-between, a region where the abstract notions of "home" and "culture" reside.
In Creative Fictions, Everingham and Provost both use literature as a point of departure. The title of Everingham's body of work, "All Stones Can Be Moved," is drawn from José Saramago's political fable The Stone Raft, while Provost's "Speedreading" is composed of the first letters in lines of text from renowned French poets and authors including Boris Vian and Hergé, creator of The Adventures of Tintin. For both Everingham and Provost, the texts provide the foundation for their own "creative fictions," written using their unique visual vocabularies. While Everingham uses line, form, and colour to construct his narratives, Provost explores the formal and conceptual quality of letters themselves, often echoing the subtle wordplay and made-up vocabulary evident in Vian's own work.
Both artists create tension between coming together and breaking apart, heightening the ephemerality and transience inherent in contemporary existence. Together, Everingham and Provost engage in a dialogue surrounding our globalized world, in which "home" is not a stable concept and life passes by at such a frenetic pace that we can only absorb a fraction of the information that surrounds us.
SCOTT EVERINGHAM
Scott Everingham creates environments and worlds that have yet to exist. Spaces are built and dismantled as if in a single moment of time where life and its bi-products are created by paint, rather than with reality that is familiar. What is central to Everingham's work is interpreting growth through the collaboration between assembled space, and paint as the visceral tool used to create it. The artist's strong interest in fiction, and the nature of fiction itself, allows the work to develop with a controlled impulse, often relying on chance and error to move each painting to completion. Each stroke is crafted based on the stroke before it, and a work progresses quickly and without delays until considered finished. This immediacy is indicative of how each painting is put together: various selections of colour and brushstroke mimic the natural and fabricated world, often with utopian and dystopian results. Scott Everingham holds a BFA from NSCAD University in Halifax, and an MFA from the University of Waterloo, and was a semi-finalist in the 11th and 12th RBC Canadian Painting Competitions. Everingham recently won a Canada Council for the Arts Project Grant, and his work can be found in the collection of the Canada Council Art Bank. He has exhibited at numerous international art fairs including Art Toronto, Art Chicago, and New York's The Armory Show. He lives and works in Toronto.
MICHÈLE PROVOST
Michèle Provost's professional art practice is focused on an examination of contemporary consumer culture, and a serious reflection on the place of art creation in our consumer-oriented society. Her art is often comprised of handmade objects and intensive needlework images that take common objects from popular culture and transform them into commentary on consumerism, appropriation, copyright, the commerce of art, the relevance of art and art history for the general public, as well as heroism and violence in comic book culture. Provost's work can be found in the collections of Loto Québec, Canada Council Art Bank, Comunika, City of Gatineau, City of Ottawa, Carleton University, Seneca College, and The Ottawa Art Gallery. She has exhibited at numerous galleries including The Ottawa Art Gallery, Carleton University Art Gallery, Art Gallery of Sudbury, Dunlop Gallery, Musée du costume et du textile du Québec, Gallery 101, Richmond Art Gallery, Maison de la culture de Gatineau, Textile Museum of Canada, Galleria Bonaire Contemporanea, Alghero, Italy, Projetto Arti Visivi, Berchidda, Italy, Karsh-Masson Gallery, SAW Gallery, and the Dalhousie Art Gallery. She has a Diploma in visual arts from the Ottawa School of Art, and degrees in Woodcarving and photography from the Norwich Arts Centre, and in Printmaking and Mixed Media, from the Artists' Warehouse Studios, both in Norwich, England. She is the recipient of the 2009 Prix du Conseil des arts et lettres du Québec pour la création artistique, the 2010 Mid-Career Achievement Award, from the Council for the arts in Ottawa. Provost is currently participating in FRESH air FRAIS, the artist-in-residence research and exhibition program at Ottawa's Bytown Museum.
IN OTHER GALLERY NEWS…
We are pleased to announce representation of Quebec photo-based artist THOMAS KNEUBÜHLER. Kneubühler's professional practice often deals with social issues and how technology affects people's lives. Whether in the ambiguous boundaries of public and private space, the all-pervasive spectre of security surveillance, or even the radiant, if dehumanizing, beauty of cityscapes, his practice identifies the co-existing insecurities, uncertainties, and subtle pleasures embedded in the structures of modern life.
Kneubühler's work has been presented in numerous international exhibitions in Montreal, Toronto, New York, Basel, The Netherlands, Germany, and China. He was recently seen in the Québec Triennial 2011 at le Musée d'art contemporain de Montréal. His work has also been seen in Le Mois de la Photo à Montréal 2007, Gallery 44, Axenéo7, Skol, Platform, and the Noorderlicht Photofestival. Numerous Canadian and international collections include: Basler Kunstkredit, Canada Council Art Bank, Canton of Solothurn, Musée National des Beaux-Arts du Québec, Concordia University, Conseil des Arts de Montréal, Foreign Affairs and International Trade Canada, Kunstsammlung Basel-Landschaft, and RBC Royal Bank of Canada. In March 2012, Patrick Mikhail Gallery presented works from Kneubühler's "Under Currents" series as part of the gallery's participation in The Armory Show in New York. In 2011, he was awarded the prestigious Pratt & Whitney Canada Prize of the Conseil des arts de Montréal. In June 2012 as part of Art Basel, Kneubühler appears as a finalist in the Swiss Art Awards, one of Switzerland's most renowned arts awards. In November 2012 Kneubühler will be exhibiting at Le Centre Culturel Canadien in Paris as part of Le Mois de la Photo à Paris. In 2003, Thomas Kneubühler earned a Master's Degree in Studio Arts from Montreal's Concordia University. For more information: http://www.patrickmikhailgallery.com/artists/thomas-kneubuhler/
PMG artist JOSÉE DUBEAU is featured in the current issue of Montreal's ESSE magazine. The magazine presents an illustrated discourse and retrospective of the Quebec-based conceptual artist. For more information: http://www.esse.ca/
The April issue of SCULPTURE magazine features a review of the September 2011 PMG exhibition LATEST FROM NEW YORK by JINNY YU. To read the review by William V. Ganis please visit: http://www.sculpture.org/documents/scmag12/apr_12/apr12_reviews.shtml
In conjunction with the opening of AMY SCHISSEL's solo PMG exhibition, we are pleased to announce the launch of the catalogue AMY SCHISSEL: SYSTEMS FEVER. The catalogue features a Foreword by curator Sandra Dyck, and an essay by artist, art historian, and scholar Petra Halkes. To order please visit: http://www.patrickmikhailgallery.com/news/2012/05/10/catalogue-launch-amy-schissel-systems-fever/
PMG artists JONATHAN HOBIN, JENNIFER LEFORT, ANDREW MORROW, CHERYL PAGUREK, and AMY SCHISSEL appear in the Ottawa Art Gallery's annual spring art auction LE PARTY on June 7, 2012. For more information or to buy tickets: http://www.ottawaartgallery.ca/
For more information:
PATRICK MIKHAIL GALLERY
2401 Bank Street
Ottawa Canada K1V 8R9
Tel. 613.746.0690 TF: 1.800.388.3298
E-mail: gallery@patrickmikhailgallery.com
Web: www.patrickmikhailgallery.com
(LA VERSION FRANÇAISE SUIT)
PATRICK MIKHAIL GALLERY PRÉSENTE "CREATIVE FICTIONS" UNE EXPOSITION D'OEUVRES RÉCENTES DE SCOTT EVERINGHAM ET MICHÈLE PROVOST
SCOTT EVERINGHAM
MICHÈLE PROVOST
CREATIVE FICTIONS
28 MAI AU 15 JUILLET 2012
VERNISSAGE
VENDREDI LE 1 JUIN 2012
17:30h À 21:00h
CAUSERIE D'ARTISTE
JEUDI LE 21 JUIN 2012
19:00h
PATRICK MIKHAIL GALLERY est fière de présenter CREATIVE FICTIONS, une exposition qui regroupe le travail du peintre torontois SCOTT EVERINGHAM et de l'artiste multi-disciplinaire québécoise MICHÈLE PROVOST.
L'exposition met en parallèle deux corpus d'oeuvres récentes — "All Stones Can Be Moved" d'Everingham et "Speedreading" de Provost—où la littérature sert de fondement à une exploration du caractère éphémère et transitoire inhérent à la vie contemporaine.
Scott Everingham et Michèle Provost usent tous deux d'éléments de langage, de narration et de récit, selon une façon qui leur est propre; Everingham en peinture et Provost, par son utilisation de matériaux tactiles et de techniques d'assemblage élaborées.
Les toiles d'Everingham suggèrent, sans précisément définir, des constructions flottantes et des bâtiments sans fondations terrestres, en quelque sorte déracinés. Provost, quant à elle, bâtit des textes visuels et poétiques composés de lettres désœuvrées et de mots aléatoires, recrutés au fil d'une lecture rapide de documents littéraires. Dans les deux cas, le signifié loge dans l'omission et l'interstice, imposant une lecture entre les lignes, là où résident des sentiments d'appartenance et de collectif culturel.
Dans cette exposition, la littérature est omniprésente, à la fois comme fondement de la réflexion des deux artistes, et comme sujet visible de leurs œuvres. Le titre d'Everingham (All stones can be moved) est extrait du Radeau de pierre, allégorie politique de l'écrivain portugais José Saramago, alors que les livres d'artistes et parchemins de Provost empruntent la première lettre de chacune des lignes d'ouvrages cultes de la littérature française, où l'on reconnaîtra notamment Boris Vian et Tintin. L'exposition tire sa force d'un heureux mariage des vocabulaires idiosyncratiques d'Everingham et de Provost, qui formulent leurs récits chacun dans une manière qui leur est propre; Everigham maniant subtilement la ligne, la forme et la couleur, et Provost exploitant les qualités tout autant formelles que conceptuelles du texte, avec grande révérence pour les acrobaties linguistiques de Vian.
Les deux artistes jouent de contrastes et de rapprochements pour nous proposer une subtile réflexion sur le caractère éphémère et transitoire qui détermine notre existence contemporaine. Ainsi regroupées, les œuvres d'Everingham et de Provost dialoguent devant nous sur le rythme de vie surhumain qui nous est imposé, lequel nous empêche de prendre racine et d'approfondir de façon significative la riche abondance d'information qui s'offre à nous.
SCOTT EVERINGHAM
Scott Everingham crée des environnements et des mondes qui n'existent pas encore. Des espaces s'y composent et décomposent sur une tranche de vie dont les circonstances sont littéralement construites, non pas avec les termes de la réalité qui nous est familière, mais avec des accumulations de peinture. Everingham s'affaire principalement à interpréter l'interstice créé par la juxtaposition des formes, et utilise la peinture comme moyen viscéral d'expression de cette notion. Sa prédilection pour la fiction et son intérêt pour la forme littéraire nourrissent son œuvre, et lui fournissent un cadre de travail rigoureux, qu'il se permet ensuite de moduler de façon instinctive, chaque trait déterminant le suivant et l'œuvre suivant son cours jusqu'à complétion. Ce processus demeure très évident dans l'œuvre finale, l'image étant précisément construite de la même manière que la matière qu'elle représente. Scott Everingham a obtenu un baccalauréat en art auprès de NSCAD, à Halifax, et détient une maîtrise en art de l'université de Waterloo; il a, à deux reprises, été demi-finaliste au Concours de peintures canadiennes RBC. Il a récemment obtenu une bourse de production du Conseil des arts du Canada, et ses œuvres font partie de leur banque d'œuvres d'art. Son œuvre a été exposée à plusieurs foires d'art contemporain, notamment à Toronto, Chicago, ainsi qu'au Armory Show, de New York. Il vit et travaille à Toronto.
MICHÈLE PROVOST
La pratique artistique de Michèle Provost consiste en un examen détaillé de notre société de consommation, et plus précisément de la place qu'y occupe la culture. Son art est principalement composé d'objets minutieusement confectionnés à la main et de pièces textiles faisant appel à des techniques traditionnelles de broderie. Elle recrée le plus souvent des objets usuels et familiers, qui deviennent autant de commentaires sur la consommation, l'appropriation, la propriété intellectuelle, le commerce de l'art, la pertinence de l'art au cœur de la culture de masse, et sa place dans les médias populaires. Son travaille fait partie de collections importantes dont Loto Québec, la banque d'œuvres d'art du Conseil des arts du Canada, Comunika (Montréal), la Ville de Gatineau, la Ville d'Ottawa, l'université Carleton, Seneca College (Toronto), et la Galerie d'art d'Ottawa. Son œuvre a fait l'objet de multiples exposition, notamment à la Galerie d'art d'Ottawa, la Galerie d'art de l'université Carleton, la Galerie d'art de Sudbury, la Dunlop Gallery (Régina), le Musée du costume et du textile du Québec, la Galerie 101, la Richmond Art Gallery, la Galerie Art-image (Maison de la culture de Gatineau), le Musée textile du Canada, la Galleria Bonaire Contemporanea (Alghero, Italie), le Projetto Arti Visivi (Berchidda, Italie), la Galerie Karsh-Masson, la galerie SAW , et la Dalhousie Art Gallery. Elle détient un diplôme en arts visuels de l'École d'art d'Ottawa et a suivi une formation en sculpture et en photographie au Norwich Arts Centre, ainsi qu'en techniques mixtes, au Artists' Warehouse Studios (Norwich, Angleterre). Elle a reçu, en 2009 le Prix du Conseil des arts et lettres du Québec pour la création artistique (Outaouais) et, en 2010, le Prix d'artiste en mi-carrière du Conseil des arts d'Ottawa. Michèle Provost est actuellement artiste en résidence au Musée Bytown d'Ottawa, dans le cadre de leur programme FRESH air FRAIS.
Pour plus d'information :
PATRICK MIKHAIL GALLERY
2401 Bank Street
Ottawa Canada K1V 8R9
Tel. 613.746.0690 1.800.388.3298
gallery@patrickmikhailgallery.com
www.patrickmikhailgallery.com